Illiteracy, bullying and health
In high school, Ryan enlisted the local public transportation system to deliver donations he collected – 1,200 books and 600 videos – to combat illiteracy in inner-city schools. He then created a bullying workshop for fourth and fifth graders. And in his senior year, he designed and managed a school-wide health fair to educate 600 of his peers.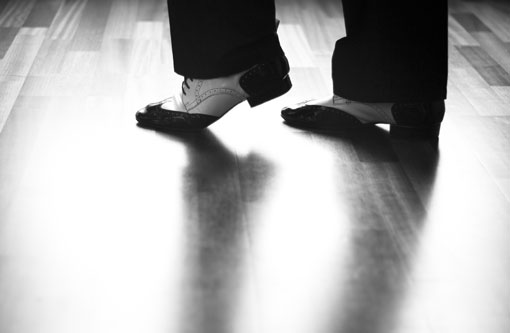 Discrimination and dance
At age 15, Raul noticed that older people in his community thought black and Hispanic teenage males were mostly criminals. Teens thought elderly people were boring. By recruiting 21 of his peers and working with the director of a local community center, the teens taught seniors basic salsa steps. In return, they taught the teens the jitterbug. While the program grew, discrimination in both groups shrunk.  
Handmade treasures offer hope
Margie recruited her friends, mother and mother's friends to join her in knitting blankets for women at a local shelter. The collaborative gesture aimed to give women comfort and something to call their own. With each blanket, knitters attached a note of support. The personal gifts not only moved their recipients, they also gave Margie and team a sense of pride.
Penniless philanthropy
Once or twice a year, a group of single mothers combine and swap their family's gently used clothing. Remaining items are donated to a local shelter. Each family's wardrobe is refreshed, and the mothers donate some of the money they would have spent clothes shopping to the charity of their choice. The best part? They're teaching this lesson to their children.

We provide tools that inspire action and teach how to make a positive difference – from one generation to the next.
Live your legacy.
You're never too young or too old to change the world for the better.
Make a difference in your life and others. Learn how to convert your passion into actions that are meaningful and rewarding. Even the smallest effort goes a long way.
Specialized programs designed to deliver
(Click on blue icons below to learn how our customized programs can help your organization, association, society, class, group or firm.)
Barbara Greenspan Shaiman has a passion for young people and for creating meaningful connections between generations. She has a wonderful story to tell about how people can become involved in their communities and help others, while becoming better people themselves. She has created a unique program to engage young people who might otherwise get lost in the system. I can think of no better way, especially at this time in America's history, to reach out to the next generation. Through networking and encouraging others to volunteer, she has created a model for anyone looking for a way to give something back to society. Andrea Mitchell
Small steps, powerful outcomes
The daughter of Holocaust survivors, Barbara Greenspan Shaiman, founder, shows us that each individual can influence change. In 1995, she founded Champions of Caring, a non-profit organization that empowered more than 10,000 youth in Philadelphia and South Africa to become leaders in public service and active, engaged citizens.
Barbara is author of two books, including Live Your Legacy Now: Ten Simple Steps to Find Your Passion and Change the World. With 30+ years of public speaking experience, Barbara partners with many types of organizations to promote a universal message, inspire and build skill sets of audiences motivated to address local and global issues. Given that $30 trillion is estimated to be transferred to younger generations within the decade, she emphasizes the importance of passing on one's values and life's lessons with wealth. Energetic delivery and influential messaging resonate with multiple generations and help to create cultures of caring.
"Never doubt that a small group of thoughtful, committed citizens can change the world; indeed, it's the only thing that ever has."
– Margaret Mead
Presentations
Designed to inspire audiences about the importance of creating projects for personal growth and social change to live richer and more meaningful lives
Motivational speeches
Inspiring stories and an energizing delivery engage audiences, preparing them to take life-changing action
Workshops
Ranging from two hours to a full day, these hands-on sessions offer assessment tools, strategies and reflection guides to help youth and adults create personal plans for living their legacies
Embrace Your Legacy Toolkit
Consists of books, reflection materials, worksheets and strategies to transform ideas into action
Consulting and support
Whether an organization or individual, we offer decades of experience in helping others find their unique passions and transforming ideas into actions that benefit generations
Create a legacy club
Learn how a supportive group of people with similar interests can build a sense of community, share resources and make a sustainable impact
"If future generations are to remember us more with gratitude than sorrow, we must achieve more than just the miracles of technology. We must also leave them a glimpse of the world as it was created, not just as it looked when we got through with it."
 – Lyndon B. Johnson
Insight
News, practical tips and strategies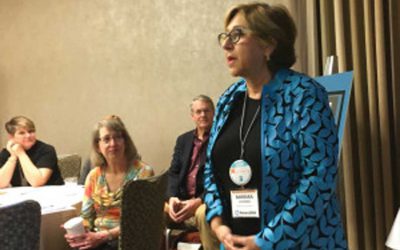 While many hope to use their later years to make a difference, finding meaningful work can be hard. Here are four ways to launch and succeed.
read more
In this Money Matters interview, Barbara Greenspan Shaiman explains how finding one's passion and converting it to action can impact well-being and teach values across multiple generations. Both are especially important in wealth management.
read more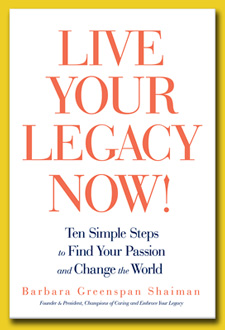 Part memoir and part 10-step, how-to guide, Barbara provides tools and strategies to help you create meaningful change in your own life, as well as those of others.